Zhongguancun (Chinese: 中关村; pinyin: Zhōngguāncūn), or Zhong Guan Cun, is a technology hub in Haidian District, Beijing, China.

It is geographically situated in the northwestern part of Beijing city, in a band between the northwestern Third Ring Road and the northwestern Fourth Ring Road. Zhongguancun is very well known in China, and is often referred to as "China's Silicon Valley".

The southwest landscape of Zhongguan plaza. For more details on the early history of the area, see Haidian District. Zhongguancun has long existed since 1950's and only became a household name in the early 1980s. The first person who envisioned the future for Zhongguancun was Chen Chunxian, a member of the Chinese Academy of Sciences (CAS), who came up with the idea for a Silicon Valley in China after he visited the U.S. as part of a government-sponsored trip. The location of the Chinese Academy of Sciences within Zhongguancun reinforced, and perhaps was in part responsible for the technological growth in this area.

Throughout the 1980s and still today, Zhongguancun was known as "electronics avenue," because of its connections to information technology and the preponderance of stores along a central, crowded street.
Zhongguancun was officially recognized by the central government of China in 1988. It was given the wordy name "Beijing High-Technology Industry Development Experimental Zone."
The current designation Zhongguancun refers commonly to the original site. However, officially (as of 1999) Zhongguancun has become the "Zhongguancun Science & Technology Zone." It is a zone with seven parks, including Haidian Park, Fengtai Park, Changping Park, Electronics City (in Chaoyang), Yizhuang Park, Desheng Park, and Jianxiang Park. The original Zhongguancun is now known as the Haidian Park of the Zhongguancun Zone. The area and environs, however, remain the same. Notable areas

Inside the Hilon market building.
Hailong Market, Guigu Market, Taipingyang Market, Dinghao Market and Kemao Market are the five prominent IT and electronics markets. They are technology bazaars, famous for their "shops with a shop", where prices are easily but grudgingly bargained. Zhongguancun shops mainly deal in PC-compatible hardware, peripherals and software. AppleCentre and Apple Experience Centre are also close by.


Since the mid-1980's, ZGC has transformed from a quiet suburb designated for scientific research and higher education into a bustling hub of high-tech business and research and development (R & D) labs (Francis 1997). The following snapshots show the region's startling transformation in a matter of years.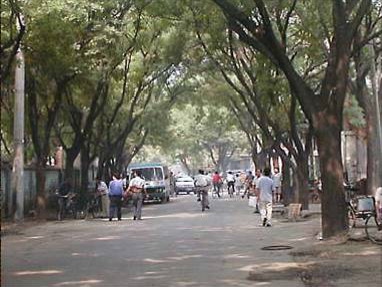 ZGC in the early 1980s. The peaceful are with wall-encircled universities or research institutes. Each institute formed a residential compound with few transactions outside. Haidian District archive. 


By 2005, the area hosted over 17,000 certified new technology enterprises; nearly 60 percent were in information communication technology (ICT) or related sectors .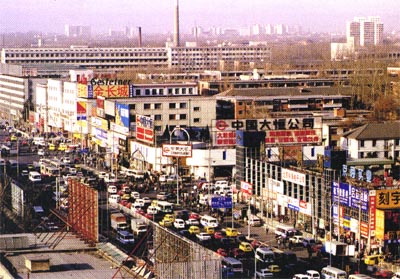 ZGC in the mid-1980s. ZGC became known as the "Electronics Street", with stores along the main thoroughfare selling computer hardware and software. Most were spin-offs from universities and the nearby Academy of Sciences. Haidian district archive.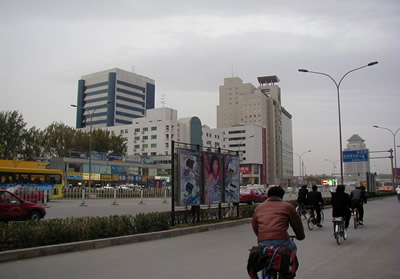 ZGC in the late 1990s. Scattered office towers went up along the thoroughfare, and large indoor computer wholesale markets occupied the ground floors.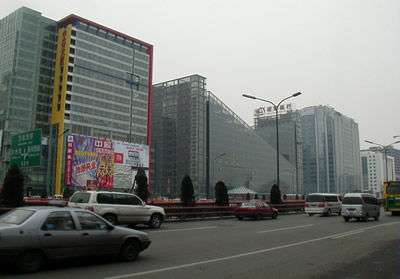 ZGC in the new millennium.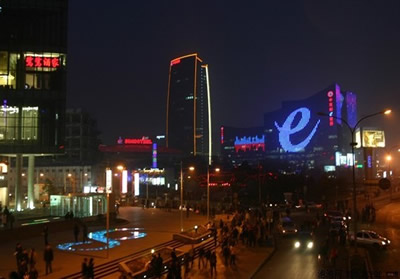 Popularly known as China's Silicon Valley, Zhongguancun is another busy area in Beijing, which is jam-packed with people wanting to buy electronics. If you have a favor with electronic gadgets, Zhongguancun is the best place for you to shop. 
This area provides an incredible range of options for you, from digital cameras, MP3 & MP4 players, mobile phones, USB flash drives, laptops, printers, PC compatible hardware, peripherals, software, etc. The 5 prominent IT and electronics markets in Zhongguancun are Hailong, Guigu, Taipingyang, Dinghao and Kemao. 
Nowadays, Zhongguancun is more than just a place selling electronic products. It's become a diverse shopping and leisure zone, where you can also buy clothes of world famous brands, enjoy yummy food, fossick trendy accessories, and purchase latest books.
Recommended shops:
Hailong Market 


Dinghao Electronic Market 

Kemao Electronics Mall 

Pacific (Taipingyang) Digital Market 

Zhonghai Electronic Market 

Off-price Shopping Mall 

Zhongguancun Plaza Shopping Mall